ONE Lumpinee 27: Tyson Harrison stops Tapaokaew Singha Mawynn
Tyson Harrison stuns Tapaokaew Singha Mawynn with first-round blitzing.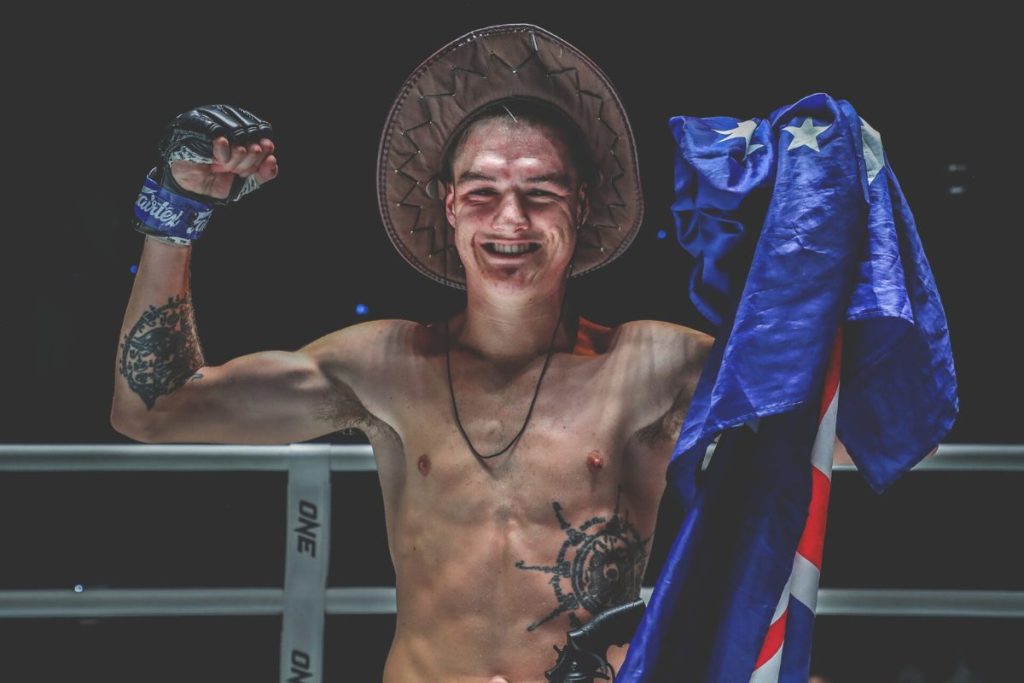 Tyson Harrison has never shied away from a tough fight. In fact, he leans into them.
The man known as "John Wayne Noi" returned to Lumpinee Stadium on August 4 to take on Tapaokaew Singha Mawynn in the main event of ONE Lumpinee 27 in Bangkok, Thailand and dispatched his Thai opponent in under three minutes.
Harrison scored an eight-count early in the first round of their bantamweight Muay Thai fight when he blasted Tapaokaew with a left hook. The latter returned to his feet, but Harrison wasted no time. He pounced and landed a two-piece that rendered Tapaokaew useless.
"Look, I just want to keep doing what I'm doing. I've just been wild. I've just been focused. I'll fight whoever they want me to. And I'm just ready to be the best, not rush anything, just take it as it comes. I'm just always going to put my complete heart into it because I'm Australian and that's what we do."

Tyson Harrison's intense post-fight speech after defeating Tapaokaew.
Six Fighters bag 350,000 Thai Baht bonuses at ONE Lumpinee 27
Performance bonuses have become synonymous with ONE Championship's Lumpinee events. On Friday night, six more fighters bagged 350,000 Thai Baht in extra prize money.
Abdallah Ondash
Zhang Jinhu
Khunsuk Sor Dechapan
Prajanban Sor Jor Wichitpadriew
Chai Sor Sor Toipadriew
Tyson Harrison
ONE surprises super-fan with 100,000 Thai Baht
Midway through ONE Lumpinee 27, commentator Gianni Subba brought a super-fan into the ring and nearly knocked her over with his announcement.
After asking the woman what she loves about ONE and why she comes to every event, he told her that ONE was giving her 100,000 Thai Baht for her loyalty.
Needless to say, the woman was overcome with emotion. She began crying hysterically in the middle of the ring.
Full results for ONE Lumpinee 27
| Winner | Loser | Round | Outcome | Division |
| --- | --- | --- | --- | --- |
| Tyson Harrison | Tapaokaew Singha Mawynn | 1 | KO | bantamweight |
| Pompetch PK Saenchai | Theptaksin Sor Sornsing | 3 | unanimous decision | 132-pound catchweight |
| Chai Sor Sor Toipadriew | Magnum Sor Sommai | 2 | KO | 130-pound catchweight |
| Prajanban Sor Jor Wichitpadriew | Tuan Kor Kampanart | 2 | TKO | flyweight |
| Khunsuk Sor Dechapan | Rachan Sor Somnuk | 3 | KO | 112-pound catchweight |
| Ratchamongkol Maethongbairecycle | Petnumkhum Phundakrataburi | 3 | unanimous decision | 117-pound catchweight |
| Ferrari Fairtex | Ilyas Musaev | 3 | unanimous decision | bantamweight |
| Stephen Irvine | Panthep VK Khaoyai | 2 | TKO | strawweight |
| Zhang Jinhu | Haroon Bangmatklongtan | 1 | TKO | flyweight |
| Abdallah Ondash | Parnpet Sor Jor Lekmuangnon | 3 | KO | strawweight |